Covid-19- What we're doing and how can you help?
WE ARE NOT A COVID-19 TESTING SITE!
Here at Coastal Family Health team is committed to continuing seeing our patients while keeping our staff safe & your fellow patients safe.
We have implemented some new measures in order to do this and need the help of our patients when communicating with our staff.
Staff will be asking you at the time of booking and when you arrive at the practice, some screening questions.
These questions will change as updates come from QLD Health & Government in relation to covid-19 symptoms, restrictions, lockdowns and travel guidlines 
It is extremely important you answer these questions honestly. If you answer yes to these question you will still be able to consult with your GP.
Reception staff will continue to be vigilant with screening questions, please be patient with our staff and answer honestly, our questions may change as updates happen.
By not divulging correct information to staff regarding symptoms and travel, you may cause increased wait times for other patients, increased wait times or appointments being rescheduled for yourself and may cause Drs and staff to have time off due to testing requirements. 
If you have another health issue not related to Covid-19 but may be at risk or have cold and flu symptoms, don't feel if you tell us you won't be seen, other health issues are still important. You are still able to consult with your Doctor. 
It is highly likely that Covid-19 will become common in our community. Let's do the right thing and be prepared.
Please be aware that by not divulging correct information about your travel or symptoms puts many people at risk. Your doctors, reception staff and nursing, including their families at home and our other patients are put at risk. This could cause an entire practice closure. This would affect thousands of patients being seen & local business.
It's hard to know what's right when information is changing and coming at us very fast. We're being Proactive not Reactive!
All staff have been trained with up to date information about how to take your call, where to direct you and what advice to give. This will continue.
Please do not bring additional family, friends & carers to consults. Where possible, please only bring yourself and/ or child being seen. If you are able to please leave other children at home or outside the practice with a carer.
We've come up with a few options for you.
All normal appointments, with no cold and flu symptoms, no travel will be seen as normal. We have created a safe space where our practice is not infectious for you and your family.

Telehealth consults are now available to be bulk-billed with a valid medicare card.  These consult can be for referrals, repeat prescription, results and advice. The doctor may ask you to come to clinic if need be and they feel it is in your best interest. These will be through video chat with Zoom, facetime, skype or whatsapp for all patients with a smart phone. Standard phone consult can be conducted for those without.

If you have cold and flu symptom. Have travelled to a hotspot or been in contact with someone who has been to a hotspot. Have been in contact with someone who has suspected Covid-19 even if your consult is not regarding Covid-19 and you need to be seen in person, you will still be seen but in a designated area.

If you have an appointment booked in the practice and you develop any cold and flu symptoms please advise reception prior to the appointment. Failure to do so may result in your appointment being rescheduled. 
The practice does not conduct swab test for Covid-19. Here are your options:
No referral needed-You can attend the Caloundra Minor Injuries drive-through (West Terrace, Caloundra) or Sunshine Coast University Hospital (3 Doherty St, Birtinya)
Or 
Referral needed- Certian QML clinics (this can be organised for you via a telephone consult) CLICK HERE .
Here is a full list of all fever and testing clinics: CLICK HERE.
For more information about Covid testing and Frequenctly asked questions CLICK HERE .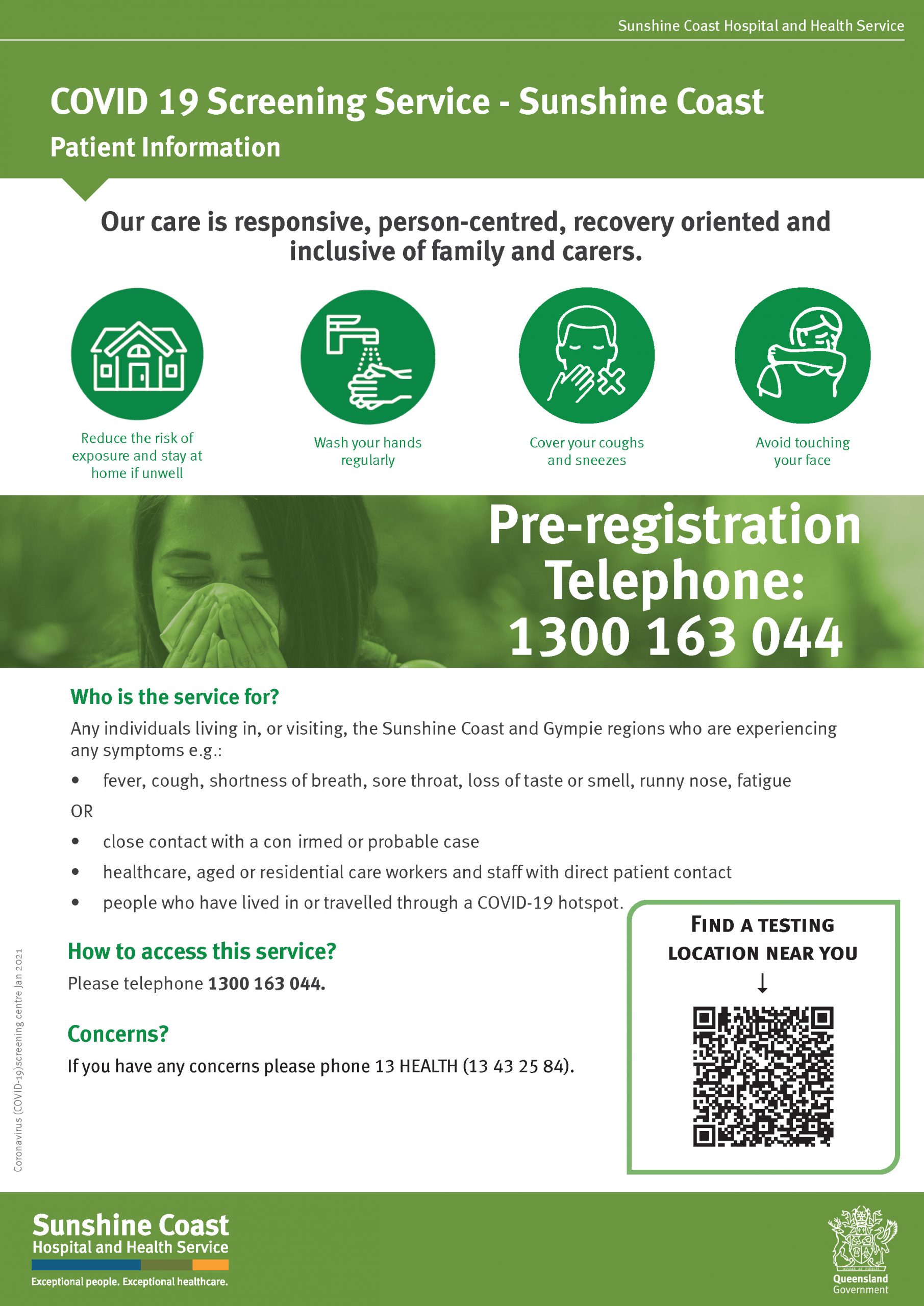 We have implemented a Condition of Entry into the practice. It is important our patients follow and abide by this. We are relying on our patients being honest, by not divulging correct information, patients will be in breach of this condition of entry notice.
Please bear with us at this time, our reception and nursing staff will be doing everything they can to direct you to the correct area so you and your family can be seen safely while maintaining the safety of our staff and doctors.
Thank-you for your support and cooperation at this time.
The Entire CFH Team.
Call to book an appointment (07) 5444 1522 or click the link below to book online 24/7.
TELEHEALTH CONSULTS ARE AVAILABLE ONLINE FOR ALL GP'S.